LAToken (Liquid Asset Token) is the first tokenized assets exchange making tradable via crypto
real assets ranging from debt and equity to real estate and works of art. Tokenized assets are already availiable for trading in tokens. Asset owners can tokenize their property on the LAT exchange or list an asset backed token compliant with the listing rules.
website
BRIDGES REAL AND CRYPTO ECONOMY
LAToken enables cryptocurrencies to be widely used in the real economy by making real assets tradable in crypto.
We allow cryptoholders to diversify their portfolio by getting exposure to real assets via crypto.
On the LAT Platform cryptoholders can buy asset tokens linked to prices of publicly traded assets (shares, bonds and commodities):
LAToken issues Asset tokens linked to prices of publicly traded assets (e.g. an Apple share)


Cryptoholders buy Asset tokens at an auction on the LAT Platform


On the pre-determined settlement date LAToken buys back Asset tokens from cryptoholders at the current market price of the underlying asset (e.g. the current market price of an Apple share at the NASDAQ)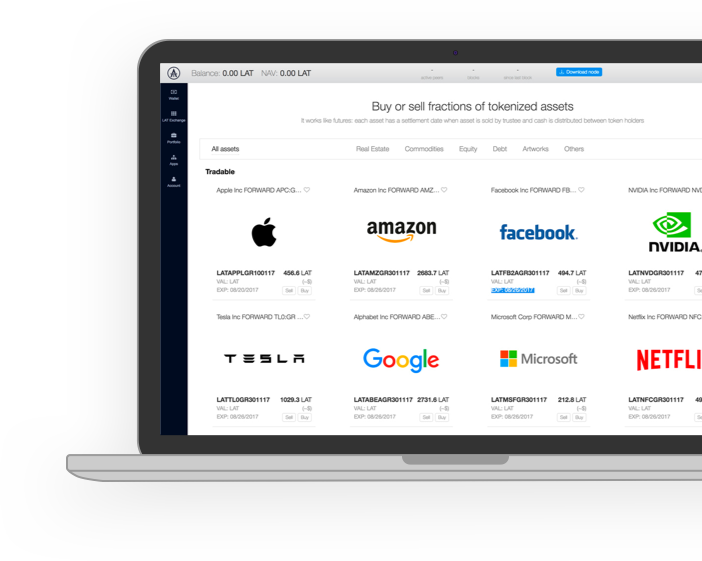 Now due to much lower transaction costs on the LAT Platform any cryptoholder can benefit from stocks, bonds and commodities upside potential without converting cryptocurrency to fiat.
whitepaper
LAToken also allows to easily issue and trade asset tokens linked to previously illiquid assets like real estate and works of art:
Asset owner sells part of the asset to a LAT-certified custodian


The custodian issues asset tokens linked to the asset value and sells them to cryptoholders


Cryptoholders may sell the asset tokens on a secondary market


The asset owner buys back the asset tokens on the settlement date or the custodian sells the asset at a fiat auction and distributes the proceeds among the asset tokens' holders
TOKEN SALE ROUNDS AND TIMELINE
On the LAT platform cryptoholders can get exposure to multiple asset classes and thus achieve the maximum diversification of their cryptoportfolio and gain a scale advantage.
Token sale starts on August 22, 2017 and will be completed in 4 rounds with the proceeds used for trading development of the tokens linked to the key asset classes: Round 1 – Equity, Round 2 – Real estate, Round 3 – Debt and commodities, Round 4 – Illiquid assets (e.g. works of art).
TOKEN SALE AND DISTRIBUTION
Current stage: Round 2
Token: LAT (utility token)
Effective Price: 1 LAT = 0.0011 ETH
Current Saving: 27%
Supply of Tokens: 400,000,000 LAT
Frozen Tokens*: 600,000,000 LAT
Compability: Ethereum ERC20 standard
* Frozen Tokens will be gradually unlocked in the years 5-10 after the Token Sale
TO BUY
To participate in LAT distribution during public token sale, that starts on August 22, you need to register a LAT Wallet, and then send Ether to the provided address using your Ethereum-compatible wallet (we recommend Mist and MyEtherWallet) or an application where you hold the private keys.
sosial media